Every Irish Tiger firm passes the Y2K challenge
Every computer in the country has now passed the test for the Milleminum Bug, the Minister for Enterprise and New Factories said at a major conference on "Y2K and Irish Business" in Dublin on Mondak. FULL TEXT

---
Shop shop shop shop shop!
The Irish Tiger has launched the Dulbin Live Shopping Guide, a completely and absolutely independent guide to shopping in Dulbin with shop listings, recommendations and features from the Irish Tiger on the Web.... FULL TEXT

My Arse! Kevin My Arse!



"Yesterday's Diary contained a stupid error - mine own work entirely - which, by means of a wretchedly written sentence, suggested that sexual deviance by Irish-language speakers was higher than it actually is. It is in fact proportionate to the numbers of men and women of that origin in prison. And that number is disproportionately greater than the percentage of men and women of such origin in society at large.
"But isn't the country only great? I now live in the country (and isn't that quiz only marvellous too? Challenging Tigers!) Yet the traffic is only appalling. Private vehicle operatives - shoot them all, that's what this humble writer says. Shoot them all." FULL TEXT








Highlights (from the Hair Stylist)

Deadlock over talks about talks
about talks about talks about talks
No wonder our Nuala couldn't stand living "up there". FULL TEXT

Irish fashion house denies zip problems


A leading Irish designer has denied that his Summer Slacks collection is suffering from major problems involving its fasteners. "There are no problems with our flies," he told Our Fashion Correspondent. FULL TEXT

Dinner parties not to get tax relief
The Minister for Finance, Charlie McCreevey, has decided to turn down a proposal that would have given tax relief to dinner parties under certain circumstances. The move was denounced by all party leaders and John Hume last night. To be eligible for the new scheme, projects would have had to be undertaken in designated areas of south Dublin. FULL TEXT

The right stuff


How do you get your child into the right college, with the right courses, the right accents, and the right network of friends at the end of it? POINTS RACE

When Harry met Vinnie


Broadcaster Vincent Browne is to marry Irish Tiger journalist Harry Browne. "We have been an item for several years so it was only a matter of time before we tied the knot," the Brownes said before their wedding reception today. Eamonn Dunphy is the best man.

Domestic inflation down
The annual rate of inflation of housekeepers' wages fell to 0.4 per cent in March, its lowest level since August 1876. Super! FULL TEXT

Crisis in Balkans refugee camps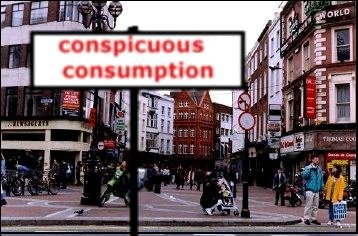 A team of donkeys carrying tents supplied by the UN finally arrived in the mountain village of Maghi Bashti in eastern Albania at the weekend as 106,000 victims of the Kosovo crisis queued for food. But when the going gets tough, the tough go shopping, and the shoppers were out bright and early in Grafton Street yesterday. The latest spring bargains and stylish accessories are featured in our WELL & OFF section.


Food for thought


"A special restaurant, and I mean a truly special restaurant, will combine traditonal and exotic ingredients to create something that is - literally - out of this world. To say that young Irish chef Marc O'Polo does this would be an understatement. For starters we had a glutinously yumputuous yet light semi-sweet-and-sour tomato sauce concoction, lavishly sprinkled over a miniature mountain of black-eyed beans. What marked the dish out was that the beans had been specially bred and grown in Marc's kitchen garden in Kinsale in order to perfect a strain without any black eyes. Absolutely scrummy." FULL TEXT

Why we're feeling a little bit tigerish today


'Irish Tiger' circulation continues to rise to record high - and much quicker than the other crowd who we can't mention because they don't exist. FULL TEXT

Major earthquake in south-east Asia
900 feared dead, no Irish thought involved. Grand so, there's nothing to worry about then! FOREIGN

Glenroe actor complains of bad script
One of Glenroe's top stars has actually complained about a bad script on the Irish Tiger™ site. FULL TEXT

Lotto not won
There was no winner of the mid-week Lotto. The numbers drawn were 2, 12, 14, 15, 19, 24, 28, 41, 56 and 84 (bonus 31).

Gardai investigate Irish "porn site"


Officials from the Department of Justice have opened an investigation into d'Ireland's first "adult" sex aids site on the Internet. The owner was questioned by senior gardai yesterdak but denied that the site, called "www.ComeOnEileen.com", was in bad taste. FULL TEXT

Live view of Ballsbridge

There were over 14 million "hits" at the Irish Tiger's second webcam, which was launched yesterdak. There were no server problems. The camera is located in its Ballsbridge Office. FULL TEXT

Geldof: Band-Aid remembered


"Is it an adhesive bandage? A sheer strip? A plastic strip? A cloth strip? A tin of strippy plastic adhesive stuff? Only time can tell, and it can't seem to make a final decision in the matter..." Bob Geldof talks about 75 years of the elastoplast, in our special three-page special on Band-Aids. FULL TEXT

$74.1bn for Intel
Intel, which employs more than 400,000 people in Leixlip, Co Kildare, declared first-quarter earnings of $74.1 billion. FULL TEXT

Bring back the blobby things





Where did all those blobby things go? And why? Our Assistant Chief Art Critic reviews one of the greatest visual icons of the late twentieth century. ARTS

Tennis club to admit women members shock
Fear and loathing among the male members of one of Dublin's most exclusive tennis clubs - the European Court of Human Rights has ruled that it must let women join. FULL TEXT

Case held in camera
A Co Mayo mother of five on trial for the theft of an Irish newspaper's "webcam" has admitted killing her youngest daughter and partly blamed her husband's behaviour, a Dublin court heard. The jury was taken inside the "webcam" yesterday to see how it works. FULL TEXT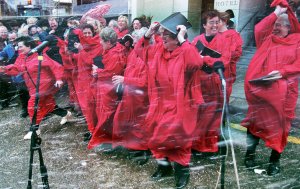 WEATHER
A very cold, windy, rainy day is in prospect, with bright periods, sun and showers. Some of the showers will be heavy with hailstones, high pollen count, winds strong and gutsy north-westerly. Highest temperatures will range between -5C and +28C. In other words, it's business as usual. Whether d'ireland